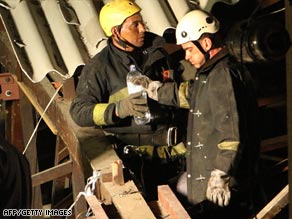 CNN-Brazilian firefighters used search dogs to comb the rubble of a church early Monday after the building's roof collapsed during a service, killing seven and injuring nearly 100, authorities said in Sao Paulo said.
Several hundred worshippers were attending Sunday evening services at the evangelical church when the structure's concrete roof fell in on them. Firefighter Mauricio Donatel told CNN that seven people had been killed and another 95 hurt by early Monday.
Miguel Jodas, a Fire Department spokesman, told Brazil's Record TV, said injuries range from lesions to head injuries and fractures.
"We are doing everything in our power to get all the victims out as soon as possible," Jodas said. "This is a task that requires agility and minutia as we sift through the rubble."
Jodas did not comment on what could have caused the collapse at Reborn in Christ Church, a popular evangelical congregation in the heart of Brazil's largest metropolis. The incident took place at approximately 7 p.m. (9 p.m. GMT).
Witnesses told Record TV that they felt a strong wind followed by a blast -- after which, as one put it, the roof collapsed "like dominos." Swarms of church members crowded the scene, many of them praying for loved ones as bodies were pulled out.
Victims were treated on the pavement in makeshift emergency care units, while others in critical condition were rushed off to nearby hospitals.
Attendance at U.S.-style evangelical churches has mushroomed in Brazil, challenging the long-dominant Roman Catholic church with rousing Sunday worship services. Reborn in Christ is one of the largest congregations in Sao Paulo.