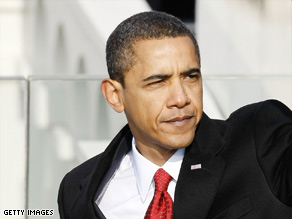 WASHINGTON (CNN) -- After a whirlwind of galas surrounding his inauguration, Barack Obama begins his first full day as U.S. president Wednesday with a full plate of reality staring him in the face.
"Tonight we celebrate, but tomorrow the work begins," Obama told troops Tuesday night at the Commander-in-Chief's Ball, one of 10 official events marking his inauguration.

After making the rounds of those celebrations with his wife, Michelle, until about 12:45 a.m., Obama is expected to meet with his economic team and top brass from the Pentagon on Wednesday.

Obama is expected to tell the top U.S. officers that he wants them to plan to have combat forces out of Iraq in 16 months, as he promised during his election campaign.

"It's something he still believes is a responsible timetable," White House adviser David Axelrod told CNN. "But they'll discuss it. Everyone agrees that we need to be on a pace to withdraw our troops, and how that will be implemented I'm sure will be something he'll discuss."

Gen. David Petraeus, whose command oversees American troops in Iraq and Afghanistan, is also expected to attend the meeting, CNN learned Tuesday. Petraeus, who will have just arrived from Afghanistan and Pakistan, is expected to brief Obama on the latest developments in the troubled region.

Obama's administration was already in action Tuesday, ordering a 120-day halt to prosecutions of suspected terrorists at the U.S. prison camp at Guantanamo Bay, Cuba, to review the military commissions used to try them. Obama Chief of Staff Rahm Emanuel sent a memo to all federal agencies and departments to halt further consideration of pending regulations throughout the government until the new staff can examine those, White House officials told CNN.

An estimated 1.5 million people packed the National Mall in freezing temperatures to watch Obama take the oath of office at noon Tuesday, capping a remarkable rise for a politician who, until 2004, was a little-known Illinois state senator. The 47-year-old president, the son of a Kenyan immigrant, is the first African-American to hold the office. "Today I say to you that the challenges we face are real, they are serious and they are many. They will not be met easily or in a short span of time," he told the crowd in his inaugural address. "But know this, America: They will be met."
Shortly after Obama assumed the office from George W. Bush, the Senate confirmed six members of his Cabinet on a single voice vote; Energy Secretary Steven Chu, Education Secretary Arne Duncan, Homeland Security Secretary Janet Napolitano, Interior Secretary Ken Salazar, Secretary of Veteran Affairs retired Gen. Eric Shinseki and Agriculture Secretary Tom Vilsack. In addition, Peter Orszag was approved as director of the Office of Management and Budget.
An objection by Sen. John Cornyn, R-Texas, delayed confirmation Tuesday of Secretary of State-designate Hillary Clinton. A roll-call vote on her nomination is expected to be held Wednesday.