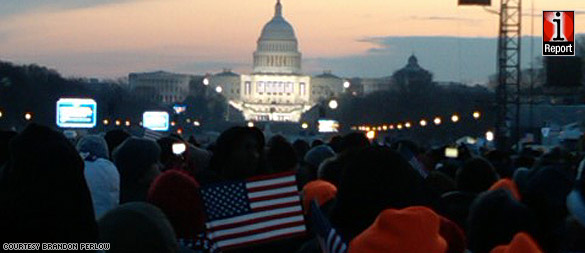 CNN-President-elect Barack Obama is at the White House on Tuesday to meet with President Bush, as hundreds of thousands gathered at the Capitol for Obama's inauguration.
The Obamas attended a prayer service at St. John's Episcopal Church on Tuesday morning and then headed to the nearby White House for a meeting with the outgoing president and first lady Laura Bush.
The 9 a.m. church service kicked off a day of events for the man who will become the nation's 44th president at noon ET.
As many as 2 million people are expected to crowd into the area between the Capitol, the White House and the Lincoln Memorial as Obama takes the oath of office.
Some will be more than a mile from the swearing-in ceremony, watching on giant TV screens erected along the National Mall.
Thousands arrived before daylight Tuesday in standing-room-only trains. They carried blankets and wore Obama scarves to ward off the wind chills of minus 15 degrees Fahrenheit.
Suburban Washington train stations were jammed. A four-story parking deck at the Springfield, Virginia, station was filled at 5 a.m. Trains rolling into the stop about 15 miles south of the Capitol had no room for the hundreds on the platform.
But just being among the crowd is good enough for many.
Gerrard Coles of Norwalk, Connecticut, had staked out a position in front of the church.
"Everyone's down here -- hopefully to catch a glimpse of Barack, just for a split second," he said. "I think this was a beautiful thing. It's something I always wanted to do. It's not every day that you get to be a part of history. Rather than just watch it on TV, you actually get to partake in it and you have a story to tell your kids."
A crowd gathered at a barricade near the church was letting children and shorter onlookers move to the front of the crowd so they could get a better view.
Visitors wandered around the Mall on Monday night, snapping pictures and shooting video of the Capitol and monuments.
The scene around Lafayette Square was almost chaotic, with cars turning around in the street as they were confronted with barriers to closed-off areas and clots of pedestrians crossing streets against the light.
The visitors' excitement rubbed off on some of the jaded locals, one of whom said D.C. residents were "cynical of government."
"The energy on the streets is something I've never seen before," said Nancy Wigal, a 45-year-old technical writer who lives in the Mount Vernon Square area. "People are walking lighter, standing taller and are reaching out to one another. It feels like hope. It feels like shared happiness."
The morning began at 4 a.m. for many as those without tickets made a land grab on the Mall, rushing to stake out positions for the ceremony.
After Obama and Vice President-elect Joe Biden take their oaths of office on the western front of the Capitol, Obama will deliver his inaugural address, which Obama aides say will emphasize that America is entering a new era of responsibility.
In the approximately 20-minute speech, Obama will say America has been hurt by a "me-first" mentality that contributed to the current economic crisis, aides say, and he will call on individuals -- as well as corporations and businesses -- to take responsibility for their actions.
After a formal farewell to President George W. Bush and lunch with congressional leaders, Obama will head up Pennsylvania Avenue to the White House, where he and his family will watch the inauguration parade from a reviewing stand. The parade begins at 3:45 p.m. ET.

Watch the final preparations for Inauguration Day »(CNN)
The new president and first lady will then close the night by attending 10 official inaugural balls.
Officials say they really don't know how many will show up, but estimates range from 1 million to 2 million.
Organizers have said about 280,000 people can fit into the secure zones around the Capitol and roughly 300,000 into the area around the parade. A mere 28,000 seats are available on Capitol grounds.

Watch how Washington has become the "it" place »(CNN)
Those with tickets to the inauguration will undergo tight screening, including passing through magnetometers, when they enter the seating area in front of the Capitol.
Spectators without tickets will be routed to the Mall, which for the first time will be open from end to end for an inauguration. Security there will be less stringent.
Jeri Pickett of Rochester, New York, was one of the few who got a ticket.
"I'd just like to see the inspiration of America," said Pickett, when asked what he was expecting from Inauguration Day. "There's so much warmth here now, and excitement -- rejuvenation."
Transportation officials say they will run subway trains on rush-hour schedules starting at 4 a.m. as well as extra buses. The area's rail system, Metro, expects more than 1 million riders.
Inauguration events have already drawn record crowds. A crowd attending an inauguration concert Sunday was estimated between 300,000 and 400,000 and stretched from the Lincoln Memorial all the way to the Washington Monument, which stands at the midpoint of the Mall.

Watch iReporter who lives near the Mall describe the atmosphere »(CNN)
While Secret Service Director Mark Sullivan said Monday there was "no credible threat" to the inauguration events, a security cordon has been put in place around the city's core, turning much of downtown Washington into a pedestrian-only zone.
In addition to Secret Service, the security effort will involve 8,000 police officers from the District of Columbia and other jurisdictions, 10,000 National Guard troops, about 1,000 FBI personnel, and hundreds of others from the Department of Homeland Security, the National Park Service and U.S. Capitol Police.
Another 20,000 members of the National Guard are ready to respond if there is an emergency, according to outgoing Homeland Security Secretary Michael Chertoff.